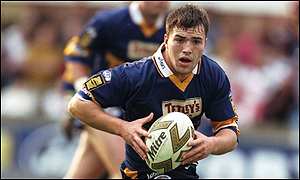 By BBC News Online's Robert Andrews
Camera-shy rugby union convert Iestyn Harris stood journalists up by a full hour before training with the Wales squad this week.
As the hyperbole rolled on before the £1.5m man's debut on Saturday against Argentina, the much talked about rookie and his team-mates were still getting their kit on.
But the former Leeds Rhino, who switched to Cardiff in August, has had all his rugby career to prepare for the much-hyped entry to the 15-man game against Argentina, the first of three Welsh friendlies.
Indeed, those who know him best say what he lacks in punctuality he makes up for in paternity, modesty and benevolence.
Rhinos managing director David Howes, who lured Harris first to St Helens then to Leeds, stops short of saying butter would not melt in his mouth.
"I have known Iestyn since he emerged as a child prodigy at the age of 17 as a kid in Oldham," he says.
"The first thing he does after a game is to visit his family, rather than head for the bar – he is very much a family man.
"He built a house connected to his mother Sandra's garden in Oldham, so I suppose it says a lot about how difficult it must have been to move to Cardiff."
Hotly tipped as Welsh rugby's new great redeemer after a measly but sparkling 200 minutes of union rugby, Harris has always kept it in the family.
Abercarn-born grandfather Norman played for Ebbw Vale, Pontypool and Newbridge before heading north to win eight Welsh caps under league rules.
On Saturday, the Oldham-born 25-year-old will complete a circle, coming home to rack up international displays in both codes.
The capture of the rival code's greatest asset was union's greatest coup, but Leeds' Howes plays down any affection his former captain has for the media spotlight which has shone since.
"He very much has a star quality but he's never been affected by stardom and his feet are very much on the ground," he says.
"When we were negotiating his contract here, a key point was that he looked after his family.
"I don't want to paint him as an angel, but that's just his character."
Private passions
Indeed, steely Harris is intensely private off the field, guarding wife Becky and four-month-old daughter Catrin from prying eyes after they uprooted for the move south.
Career contemporaries like former Wales rugby league coach Clive Griffiths – are similarly protective of the Iestyn nest.
"Our careers have followed in parallel – he's a very modest man," he tells BBC News Online.
"He is shamelessly Welsh, which most people wouldn't believe just because he has a Lancashire accent.
"His sister is Rhian and her children are Dewi and Emrys – they are red through and through."
Already, Welsh squad stalwarts have sat up, noticed and hurriedly sought to emulate Harris's training work ethic in a bid to catch up, adds Griffiths.
Not since the days of Barry John has so much hype surrounded the nascent celebrity of a Welsh rugby incumbent with the head to cope with all the pressure at once.
But the jury is already out on Harris's ability to cope with the intense expectations of a Welsh public baying for success after a dip in form.
Adds Griffiths: "He's the model professional – he is a leader of men."