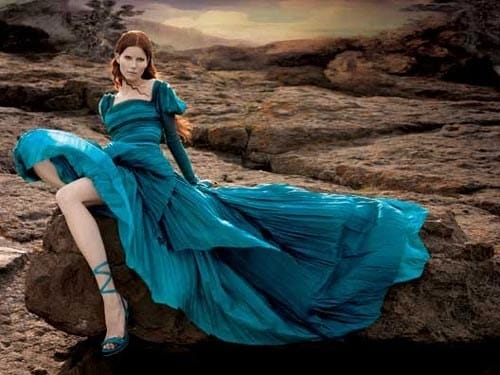 A top international model is using social software and cell phones to give high fashion an air of high tech.
Anina, who struts her stuff on European catwalks and magazine covers, is a self-proclaimed geek and entrepreneur on a mission to turn the fashion industry inside out using an array of mobile gadgets and websites.
Anina is one of the star attractions this week at Les Blogs 2.0, a Paris conference that has drawn speakers and delegates from around the world to debate the future of weblogs.
The Paris-based redhead, who is as much preoccupied with hard drives as haute couture, regularly uses her cell to blog pictures and journal entries from shows, hair appointments and photo shoots.
She recently started the 360 Fashion project to give similar tools to designers, photographers and other fashionistas. A network of 15 cohorts across the world is now using online journals to open a window on the inner workings of the tough-to-crack business, and Anina says that is just the start.
"The media portray models as dumb objects, which is not my experience at all," she said.
"Models are super-mobile people because we travel the world," she added. "I blog using my mobile about a hundred times a day because, in my work, I'm absolutely not anywhere near a computer. Fashion is a mystery to many people. Now, like voyeurs, they can see what's happening in the industry."
Anina, who is addressing the Les Blogs conference on social technologies, believes her parallel expertise in both shoes and Bluetooth can help shape the future of communications technology for females in particular – 360 Fashion bloggers have already seen an upturn in business since joining the project.
"When I'm fed up with photo shoots, I run away to code," said the Colorado-born model, who learned Unix at school and credits her computer-engineer brothers as inspiration.
"I am what they call an 'advanced user,'" she said. "I like to see how systems work…. I'm hacking fashion, I suppose."
Participants in 360 Fashion, which was launched during Paris Fashion Week in October and is sponsored by Nokia and blog software maker Six Apart, include designer Erin Featherstone and model agency WS2M.
The diary entries and pictures they post between shots or while partying give onlookers a glimpse behind the scenes of the glam international model set – and drag the industry into the 21st century.
"Fashion has always been reluctant to use technology," said WS2M President Lionel Dejean. "But, as it becomes fashionable to take pictures or videos with the phone, blogs offer new ways for providing advice to aspiring models and for them to get scouted and start a career."
Les Blogs 2.0 organizer Loic Le Meur, Six Apart's vice president in Europe, said: "Generally, the fashion world is not very much into the web. Anina represents the traditional fashion world moving towards the future. She is unique because she is a geek model; she converts all her friends."
That makes high fashion more accessible to clothes-conscious young women, said Le Meur, adding that an associated online trend in which talented amateur designers group to customize cheap, unbranded garments threatens to unravel the established fashion world in the same way podcasting and weblogs are challenging mass media.
Les Blogs 2.0 will hear the latest ideas for blogs from politicians, venture capitalists and representatives of websites like Yahoo and Technorati.