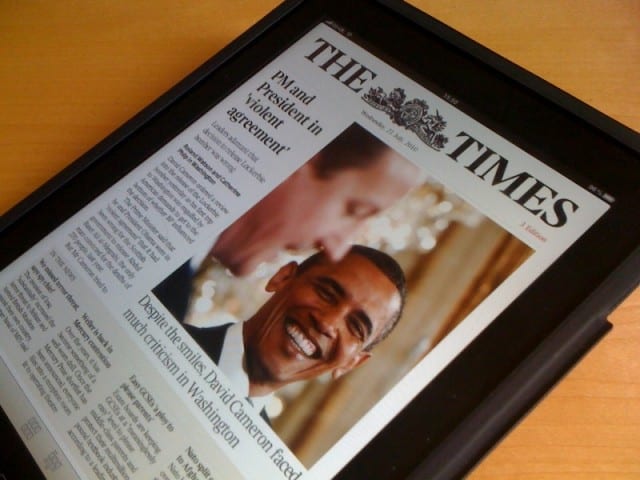 News International's The Times may shed its social media invisibility cloak by letting subscribers gift paywalled articles to friends.
It is also considering introducing micropayments and may add rolling news to mobile editions.
But exact details, like whether recipients of subscribers shared articles will get to read for free, are at an early, exploratory stage.
The Times pioneered paid content's big second wave when it implemented platform-wide digital fees in summer 2010 and reported 115,000 customers in September. Its online audience and exposure in social media has naturally declined, but the company remains bullish, with a liberal ethos to charging formats going forward.
A social metre?
Bell said the payment method is not set "hard and fast" but told me the publisher won't let some articles go free under the metre model operated by titles like The Financial Times and New York Times.
Micropayment suspicion
"We're at the start of a journey," Bell added. "Microtransactions is an area that, over time, we will explore in detail. In terms of article-by-article micropayments, it's about creating a journey which makes that easy and simple, straightforward and transparent for the user. That's where my concerns would lay around micropayments – does the hassle of doing so warrant it for a one-article piece? It's about getting that customer experience right."
Rolling iPad, too
The Sunday Times and News Of The World, before it was closed, had begun letting users download individual Sunday editions for an individual price. On major stories, like Steve Jobs' death, The Times' well-regarded iPad edition, though it sticks closely to a linear, newspaper-like daily format, also updates with breaking packages. Now breaking news may be increased…
"We're looking at features to allow people to have a mix of both," Bell added. "The real-time piece is something we'll be exploring over the coming months. We need to come up with a way of surfacing that to the user so you can surface those experiences."
Pleasing payers
Bell admits: "I was very surprised, going in to the business, at the success of the (paid) product. It shows people are willing to pay for content. When we release our next set of numbers in September, we'll do so with a smile. We've now got confidence in the business model. The challenge is making sure we evolve those products, offer value for money and give people content where they want it.
"The audience is still substantial. Over a quarter of a million people still have access to our digital products for The Times. The key thing for us is engagement.
"Over 60 percent of people read the iPad edition six times a week; that's huge engagement. People are spending three times longer on the website than they were previously.
"The average salary of the (Times') iPad reader is £109,000, over 15 percent of the audience reading the iPad on a daily basis earn in excess of £200,000 a year. It's a very attractive audience for advertisers. The volume has decreased but the value of the audience has gone up."