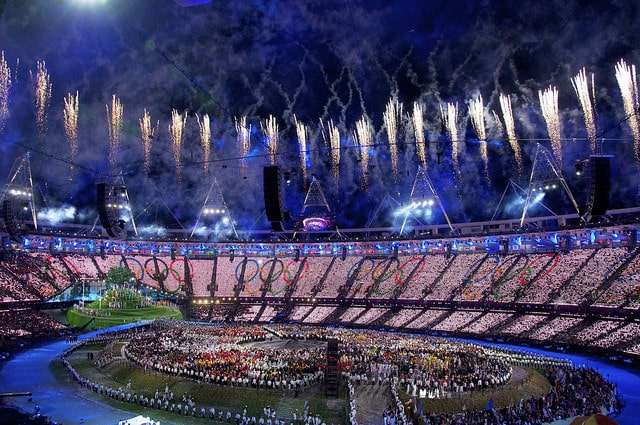 While NBC is still taking a social media pummelling for "failing" with what it hails as a record-breaking Olympics audience, the BBC, whose Olympics undertaking has been lauded, is telling the world about its new online records.
On the busiest individual days of London 2012, BBC.co.uk served even more traffic than during the whole of the 2012 soccer World Cup, BBC Olympics product head Cait O'Riordan writes (release). That number is 2.8 percent petabytes.
We previewed the BBC's Olympics online strategy here, here and here. Beside near-day-long coverage across five of its nine linear TV channels, the corporation had cast up to 2,500 hours of live action (every minute of every event) on its website for desktop, smartphone and tablet and through up to 24 simultaneous live streams available online, through internet TVs and via satellite and cable TV.
An average 9.5 million global daily uniques to the BBC Sport website is almost a quarter higher than the previous record level.
Video requests were doubled from those seen during any previous event (106 million) – higher than the 2008 games (32 milion) and 2010 World Cup (38 million).
A third of web visits came from mobile. But only a tenth of video requests were mobile.
Most interestingly, the majority of video requests (62 million) were for live streams. Only eight million were for on-demand live streams, 35 million were for short-form clips.
The BBC, which adapts streaming quality to viewers' bandwidth, says the average bitrate was "the highest the BBC has ever delivered online" at 1Mbps.
O'Riordan:
Hourly viewership by platform shows how most usage came from office computers at lunchtime. The newest phenomenon, albeit in line with previously-issued BBC data, is that, despite being a relatively new form factor, tablets accounted for more viewing than any other online medium late at night, as people swiped their iPads whilst watching TV from their sofas and whilst heading to bed.
Mobile and tablet traffic also peaked at weekends. (40 percent of browsers compared with 30 percent on weekdays).
The BBC recently introduced a new web video player for Wimbledon, F1 2012 and the Olympic Games, melding live with catch-up sports. New stats show in-stream chapter markers, allowing live viewers to rewind to key events, were clicked 1.5 million times each day.