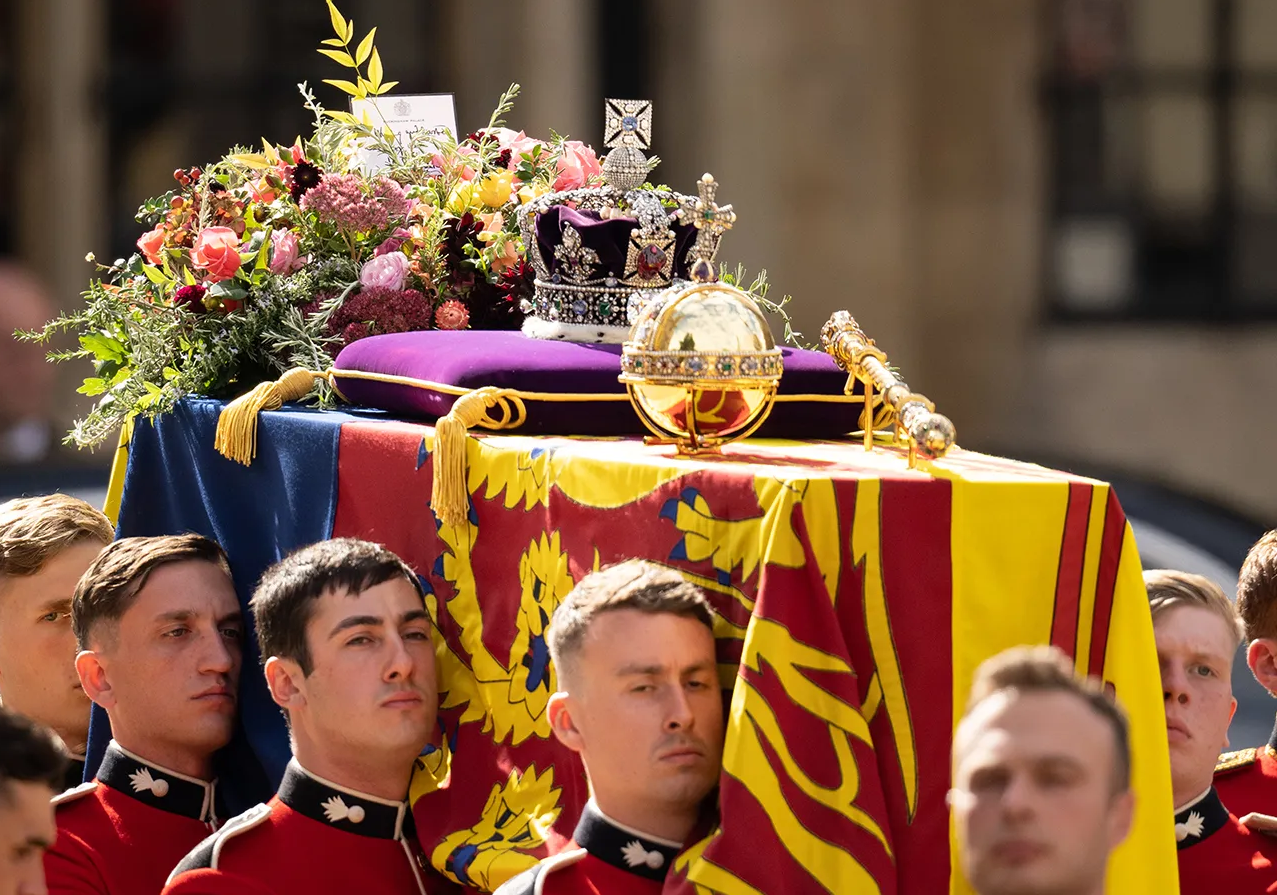 Following the news of Her Majesty's death, we saw TV schedules heavily disrupted, with the BBCs extensive coverage earning the broadcaster the nickname 'MournHub', a term that even managed to trend on Twitter.
While it was undoubtedly one of the most monumental events many of us have witnessed in our lifetime, many viewers felt the media coverage was excessive, with 49% saying it was "too much" vs 41% of people who thought it was "about right".
Tallying TV numbers
Despite these sentiments, the Queen's global popularity and influence was evident, with an estimated 4+ billion global viewers predicted to have watched the funeral – a fitting tribute, perhaps, for arguably the most famous woman on Earth.
The previous record was held by the 1996 Atlanta Olympics Opening Ceremony, drawing in 3.5 billion global viewers.
Back home, it wasn't quite the record-breaking live TV audience some were expecting, but nonetheless drew in an impressive estimated 25 million viewers (falling short of the 29.9 million people who watched the Three Lions in last year's Euros final).
When streaming and catch-up figures are included, it may well set the record for the highest domestic audience – but the 1966 World Cup Final still holds the crown for live viewing, with over 32 million viewers.
News consumption spike
Once again, newsbrands highlighted their relevance, with around 5.5 million people who claim they "don't usually buy a newspaper" saying that they bought one following the death of Queen Elizabeth II.
The Sun saw a 33% increase week-on-week of physical copies sold on Friday, September 9, while The Times saw an enormous 113% increase on the same day.
With this demand for physical copies to commemorate the occasion, some copies of The Times were selling on eBay the day after for over £50.
There was huge uplift in site traffic over the period of mourning. The Sun drove over 10 million unique views for several consecutive days following the news, while The Times also saw huge uplifts, with over 11 million page views for content relating to "the Queen'" in the first five days following her death.
Across our broadcast channels, News UK reported record-breaking weeks as people tuned into the tributes. Times Radio reported its highest day of the year for connected listening, whilst Talk TV saw an uplift of 174%, pulling in 615,000 viewers on Thursday, September 8.
Elsewhere, the death of our longest-reigning monarch saw the cancellation of many events, including the scheduled Premier League fixtures – a sentiment that 46% of people agreed was an appropriate course of action.
When it came to TV and wider media, the majority of broadcasters halted all advertising activity as a mark of respect.
Marketers draw suspicion
This, however, didn't mean the occasion passed without any marketing mishaps.
Social media was one channel on which some brands chose to post their own tribute to Her Majesty. But many learned that it is sometimes better to say nothing at all than to misread the room.
A tweet from Thomas Cook as well as a bizarre mock-up of hero sporting personalities looking up to the late Queen in a sky laden with clouds were two examples of totally off the mark attempts to pay condolences. The less said about Center Parcs the better…
Figures from YouGov also suggested that consumers were unsurprisingly cynical of such responses, with almost six in 10 saying brand messages about the Queen are more driven by PR reasons than a sincere desire to pay respects.
Only 28% thought these messages were likely to be genuinely heartfelt.
The psychology of unity
In regards to public reaction, such a poignant royal death caused an outpouring of grief on a scale many of us haven't seen before. With that, we were witness to some interesting behaviour.
Half of our News UK audience claimed to have shed a tear over the news, and many also felt an overwhelming urge to pay their respects physically.
The queue to see the Queen's lying-in-state reached seven miles at its peak, with those in line waiting 24 hours or more to briefly pay their respects as they shuffled through Westminster Hall.
Scientific papers will be published on the many reasons that drew people to join such a long queue, from hardcore royalism and personal grief to historical fascination and FOMO, as well as on the sense of camaraderie that sprung up between the people who waited together in very typically British fashion.
This article was co-authored with Paul Moynihan, planning partner, News UK.