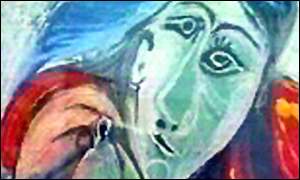 An internet arts group has launched a campaign to save the doomed Centre for Visual Arts in Cardiff.
ArtCymru.co.uk, which provides a gallery and discussion space for contemporary artists in Wales, has urged people to email their support to an online petition in a bid to stop the planned closure of the centre.
The CVA is to shut on 5 November after failing to attract the expected number of visitors. The Arts Council of Wales has turned down a bid to re-launch the centre with lower admission prices and 40 jobs are to go at the premises in The Hayes.
"The Centre is a wonderful space for contemporary artists and will be dreadfully missed," said ArtCymru.co.uk spokesman Nigel Williams.
"If this facility is not worth the support of our official art bodies, what is?
"We don't agree with the entry fee of £3.50. With the correct financial support, this could be removed and the gallery will finally begin to see the visitor numbers it deserves."
He said the Powys-based group realised the campaign may not save the centre, but that it was essential the Arts Council of Wales and the National Assembly understand their "grave concerns over the loss of this vital facility for the visual arts".
'Disgracefully neglected'
The CVA, built with £12m from lottery and trust funds, is a showcase for cutting-edge art but has attracted only a quarter of the projected 250,000 visitors.
Central Cardiff AM Jenny Randerson suggested the arts community was losing a potential Welsh version of London's Tate Modern.
Mr. Williams added: "We are not a politically motivated group. As artists, we feel that the visual arts have been disgracefully neglected over the years."
Visitors can email their support from the ArtCymru.co.uk web site.